Synopsis Of Pole Saw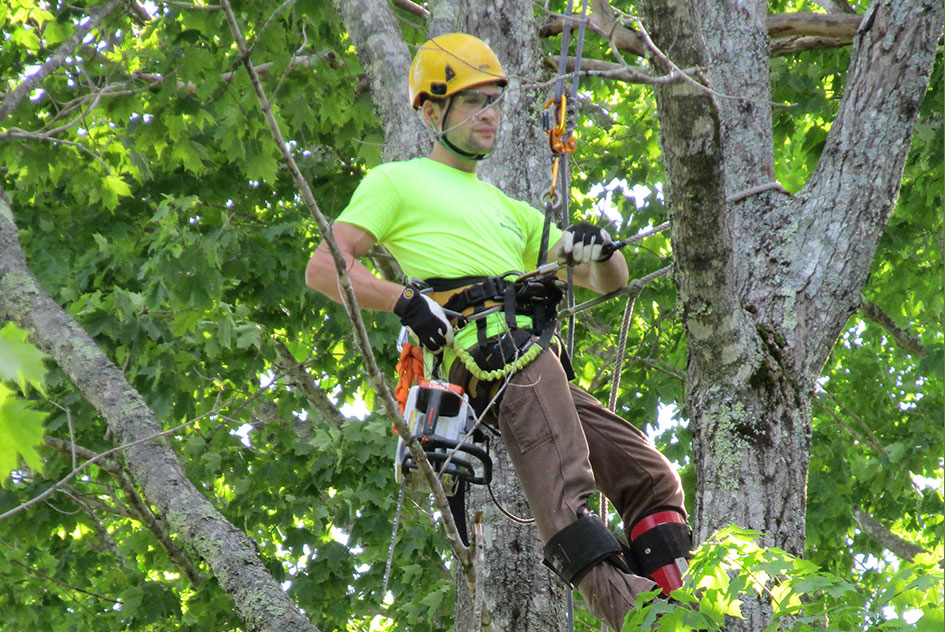 A pole saw is a useful tool for pruning, trimming, and cutting hard-to-reach branches.
The long handle allows users to stand on the ground while cutting high branches.
With a quality saw, homeowners can avoid climbing trees and ladders with a chainsaw in order to maintain property trees and shrubs.
Before using any outdoor power tool such as a gas or electric-powered pole saw, read all of the safety instructions which come with the product.
Wear protective goggles, earplugs, and gloves when using the saw.
Some products also require that you wear closed-toe shoes or boots during use.
When buying a new pole saw test out each model before purchasing it if possible; some products work better than others depending on their overall design and weight.
Seven Most Popular Types Of Pole Saw Uses
Electric Pole Saw Uses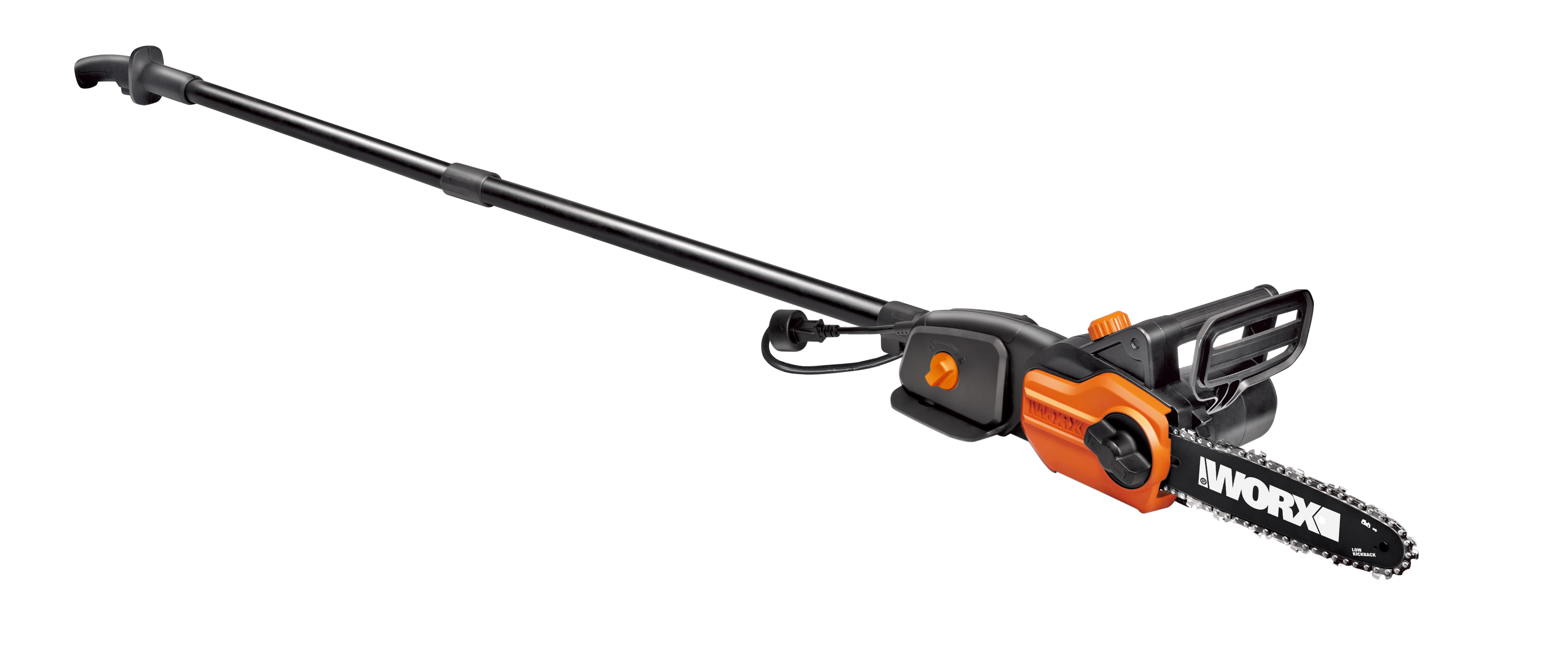 An electric pole saw is an easy-to-use option that requires a power outlet.
These types of pole saws have been around for over 40 years, according to the Sears Home Improvement website.
Most models require an extension cord that can be plugged into a standard 110-volt household outlet.
In addition to being lightweight, these types of tree saws come with a built-in clutch mechanism that will automatically shut off the tool if there is a strain on the cutting line.
This feature not only protects users from injury but also extends the life of the cutting line. Some higher quality models offer very long cords which allow users to work from a distance.
Electric pole saws are typically battery-powered, but some models can be plugged into a wall outlet.
These types of pole saws give users the ability to work for an extended time without needing to recharge the battery or replace it with a new one.
This feature makes them particularly useful if you have a large job that requires a lot of cutting and pruning.
Models which run on batteries need to remain plugged in during use so they do not lose power.
Also, make sure the model is equipped with an auto shut-off safety system which will turn the product off automatically if there is too much pressure on the cord.
Gas Powered Pole Saw Uses
Electric models are lightweight and easy-to-use but gas-powered models offer more power and are more durable.
A gas-powered pole saw is useful for cutting medium to large branches.
These types of models run on gasoline which propels the chain saw attached to the end of the long metal shaft.
Gas-powered models allow users to cut both vertically and horizontally; they come with an adjustable height option that allows different operators to use it comfortably while standing or sitting down.
Most gas-powered tree saws will work faster than electric models but take a bit longer to get started.
They can be a bit heavy, so some gas pole saws have wheels attached to the bottom part of the metal extension pole which makes them easier for users to push around while trimming or cutting limbs from trees and bushes.
Manual tree Pruner Uses
A manual tree pruner can be used to cut small limbs and branches.
These models typically come with a straight or curved blade that is attached to the top of the pole, and it has a rope or wire cutting mechanism at the bottom.
A manual tree pruner works best for individuals who will be using it only every once in a while, and it takes some practice to get accustomed to using them effectively.
Pole saws are a unique option for people who want to maintain their trees but don't want to spend a lot of time outside working with them.
When used properly they make the perfect addition to your gardening tools.
It makes sense to invest in a pole saw if you expect to need it on an annual basis or more often.
Corded Pole Saw Uses
A corded pole saw runs on electricity; this means that the user must remain close to an electrical source such as a wall outlet while working with their tool.
This type of model usually comes with a long extension cord that plugs into the end of the metal pole which reaches up high into trees or bushes.
Users can adjust the length of these pole saws by choosing a longer or shorter extension cord.
Cordless Pole Saw Uses
Cordless pole saws run on rechargeable batteries and they do not need to be plugged in while in use.
This makes them very convenient for individuals who want to work above their head without having to be attached to an outlet.
Many cordless models are designed with built-in safety features that turn the product off if too much pressure is on the cutting line, which prevents accidents.
Cordless pole saws provide good mobility for users because they don't have long cords attached to them as electric models do.
Also, users don't have to worry about tripping over long extension cords when working at odd angles.
Hydraulic Pole Saw Uses
Hydraulic pole saws are more powerful than electric and gas-powered models, and they can cut through thick tree branches and limbs.
These types of tools require users to attach a shorter metal rod into the end that has a cutting blade attached to it.
Most hydraulic pole saws come with a built-in system that involves pumping a foot pedal in order to create pressure within the device, so when the user squeezes the trigger on top of it there is enough force to power through thicker pieces of wood or trees.
This type of model usually requires the use of both hands so if you need something lightweight for everyday use an electric or manual model might be much better for you.
Industrial Pole Saw Uses
An industrial pole saw is a powerful tool that has been built for those who need to trim trees on a daily basis.
It's difficult to use one of these models without being properly trained because it can cause serious injury if not used correctly.
In terms of the blade types, most industrial pole saws have a circular blade instead of a typical metal chain, which makes cutting through thicker branches much easier and safer for users.
The blades are also adjustable, which allows operators to determine the height at which they work while using their devices. If
you work in a high-rise building and there is a lot of maintenance upkeep to do, an industrial model is the best choice for you.
The Best Pole Saw Guide
When looking for a pole saw, you need to take several things into consideration so you get the correct model for your needs.
Each type of product comes with different types of blades which are designed in a specific way depending on the size and thickness of branches that it's meant to cut through.
Also, many manufacturers offer products that come in a wide range of prices because they only feature certain types of metal or materials in their construction.
If you're going to be working with wood regularly you'll want the best quality pole saw possible, but if this is something that will be used once in a while an electric model may be perfect for your needs.
If you work at extreme heights often an industrial model might make sense for your company or business even if you don't plan on using it every day.
However, if you're just looking to clear your backyard after some pesky branches fell during a windstorm you might want to consider an electric model that comes with an extension cord so you have more mobility while operating the device.
Knowing how often you need to use this equipment is another important consideration when investing in new pole saw models for your business or property.
If you only want something for light-duty work around the yard or property you can get away with spending less money on one of these tools, but if heavy-duty usage will be needed go for a high-quality product that has been designed not to break down during regular operation.
If safety concerns are involved then always invest in something that comes with extra safety features including a harness or lock in order to protect yourself when working at height.
Benefits of Owning a Pole Saw
There are several reasons why you might want to own a pole saw.
If you have trees that need trimming or bushes that need pruning, then using a pole saw will be much easier than trying to do the job with hedge trimmers, loppers, or hand clippers.
A lot of people like to use them for yard work because they make the job faster and simpler, and it's also good exercise and muscle building to use one.
Some models can even be used as a means of rescuing someone who is stuck in a tree.
That being said, not all pole saws are created equal; some models come with more features than others and may offer an overall better experience than other options on the market.
It's a good idea to consider some of the more essential components that a pole saw should have before making a purchase.
When you're looking for a pole saw, be aware that you'll probably see two different types on the market: chainsaws and pruning saws.
While both are great options, they each offer specific advantages depending on the type of work involved.
Pruning saws typically can't cut through thick branches as a chain saw, but they will do well with most other tasks, whereas chainsaws tend to be bulkier and harder for average people to use properly.
When choosing between these two categories, it's important to know which one best suits your needs.
It may help to think about what is likely going on in your yard so you know which type of pole saw will be best for your needs.
Pole Saw Buying Tips
There are several qualities that a good pole saw should have, but it's important to know what they are before making a purchase decision.
Safety is one of the most critical factors in any tool or device that can send dangerous objects flying into the air.
You want to make sure that whatever model you choose comes with a harness that will keep you safe; if it doesn't, don't give up on looking for something better because there are plenty of other options out there.
If you're working at height then it's always smart to invest in something that has been designed with safety features including gloves and protection.
It also makes sense to purchase a pole saw that is easy to use and doesn't take too much effort.
Maneuverability is also crucial; make sure you can get the tool moving in the way you need it to without straining yourself because if your muscles tire out before you finish cutting everything then it's just not worth it.
Is a Pole Saw Worth It?
Some people may wonder if a pole saw is really worth the time and effort that goes into using it.
After all, hedge trimmers and loppers can do similar work as one of these tools, so why bother investing in something like this
The truth is that there are several reasons you might want to think about buying one of these appliances.
First off, they make the job much easier; otherwise known as doing things with half the effort or less than what would normally be required.
Secondly, because they help you reach high up places where other types of yard and garden equipment would fail at making it happen (if you can't get up there yourself).
They also give you more control over how thick the branches are once they have been cut as well as letting you perform more complex tasks with less risk.
All in all, a pole saw is one of those investments that may be worth making if it makes your life easier or if you can't get the job done using other tools and devices around the house.
Because they come with a variety of features and capabilities, you'll probably find at least one model out there that offers an overall good experience for everyone who uses it.
Final Words
Pole saws are very useful for people with trees in their yard.
Though most people use chainsaws, there is also a version called pruning saw that is lighter and easier to handle, but it cannot cut through thick branches like the chainsaw can.
It might be worth investing in one of these tools for your next clean-up job around the yard.